There is something magical about this husband and wife duo…the chemistry is palpable as they wind their way through styles from folk to blues to rock to classical (not classic rock, classical, as in Handel).  The combination of Maura's voice and Pete's virtuosity on both guitar and ukulele(!) was mesmerizing.
The Kennedys are an American folk-rock band, consisting of husband and wife Pete and Maura Kennedy. Their first album, River of Fallen Stars, was released under the name "Pete and Maura Kennedy"; they released all subsequent albums as "The Kennedys". They met in Austin, Texas in 1992, when Pete Kennedy was playing in Nanci Griffith's band, and for their first date, each drove 500 miles to meet at Buddy Holly's grave in Lubbock, Texas. Soon, Maura Boudreau joined Griffith's band as a harmony singer, and they began their career as a duo when they opened for her during her tour in Ireland. They are influenced by the Byrds and other 1960s rock and folk-rock artists. Their 1998 album Angel Fire featured many songs with literary references, such as "A Letter To Emily" and "Just Like Henry David".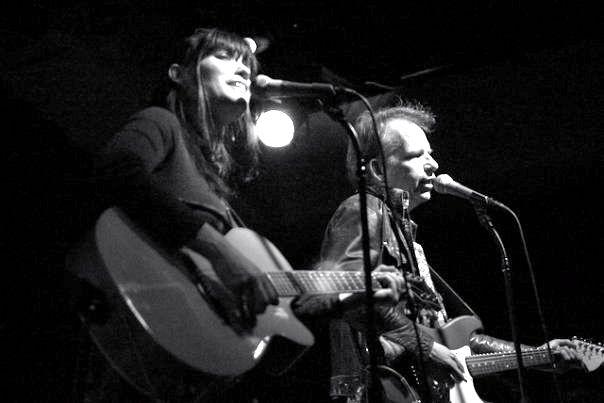 When performing live Pete plays the acoustic guitar, electric sitar, bass and ukulele, while Maura plays acoustic and electric guitars and uke.
They have performed in clubs and theatres throughout the United States, a cruise, and at Bill Clinton's first and second inaugurations – and at Voices Cafe in Westport CT!
Here are some photos from the event – click on any photo to start a slideshow: